You might be stuck in the office for the next month until spring break, but that doesn't mean you can't take a mental vacation. Travel (virtually) with us to Iceland, where the landscape is as diverse as it is breathtaking. Off we go…
Stapafell Mountain is located on the Reykjanes Peninsula in southern Iceland. Urban legend is that giants used to habitate this area.
Wreckage of a US Navy airplane from 1973 on Solheimasandur's black sand beach.
Lupine flowers blooming in Stokksnes, southeastern Iceland.
Seljalandsfoss Falls: one of the most popular places to visit in Iceland. Visitors are able to walk behind the waterfall and enter into a cave.
Reykjavik is Iceland's capital, located on a peninsula.  It is Iceland's largest city and hosts a bunch of museums about its Viking history.
Hallgrimskirkja was built in 1983. It's a Lutheran parish church in Reykjavik and sits 240 feet tall.
Landmannalaugar (Northern Iceland) is considered to hold the most beauty in Iceland, but is also the most uninhabited.
Jökulsárlón is a glacier lagoon about 400km from Reykjavik.
Icelandic countryside…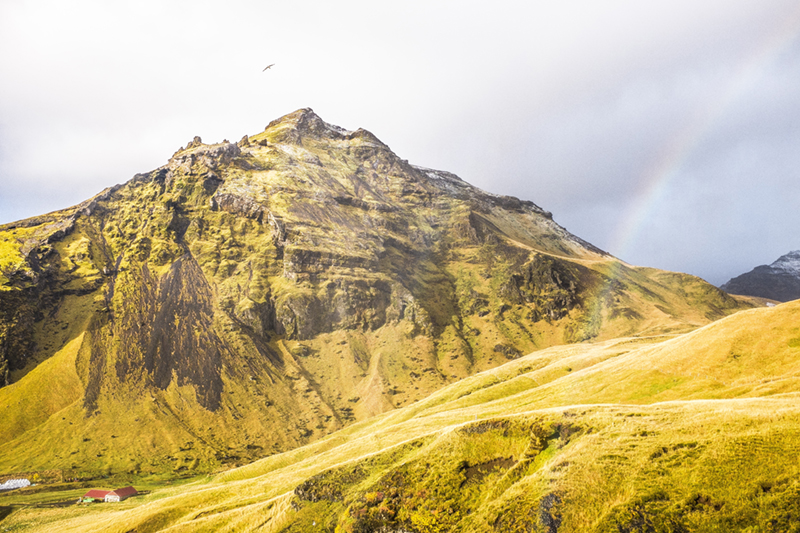 The Eyjafjallajökull swimming pool: the water comes from a natural hot spring and you have to take a quick hike to get there (10 minutes).
Specific to Iceland, these horses are smaller in size and can sometimes look like ponies.
A home in the countryside.
Skaftafell is part of Vatnajokull National Park, and is known for it's nice weather in the summer which allows for hiking and camping.
Gullfoss Falls (means 'golden falls') is a waterfall found in the southwest, on the Hvita River.
Fjadrargljufur Canyon in the southeast region near Kirkjubaejarklaustur village.  It was created from glacial erosion.
The Eldhraun Lava Field is located in the highlands and is the product of the 1783 eruption.
The Vestmannaeyjar archipelago (also known as the Westman Islands) hosts the largest single puffin colony in the world.
Dyrholaey Lighthouse is located on the southern coast of Iceland and was built in 1927.
Via i Myrdal: Located on a hill in Vik. It is thought to be the only building in the town that will survive a flood.
Þingvellir – A National Park in southern Iceland