If you need an escape from modern, everyday life, camping can do wonders for your body and soul. To help you reconnect with nature, we've compiled this list of the best campsites in the country so you can spend less time researching and more time exploring!
1.) Denali National Park, Alaska
If you want to experience the best camping this country has to offer, head to Denali where you'll find glaciers, rivers, lakes and a bounty of wildlife. The true highlight of this trip, though, is Denali, which happens to be the highest peak in North America; you can enjoy it by hiking a variety of trails that range in skill level from beginner to expert.
2. Assateague Island, Maryland
Not only does this camping spot offer beautiful sandy beaches, wetlands, and marshes to explore, but it also has free-roaming wild horses that you can spot frolicking along the shoreline in the early morning hours.
3. Glacier Bay National Park, Alaska
If you are itching to camp somewhere truly unique, try setting up your tent on top of a glacier in Alaska! The trails are not for the faint of heart or the amateur hiker, and getting to the glacier (through the bay) is strenuous, but the scenery is worth every second.
4. Zion National Park, Utah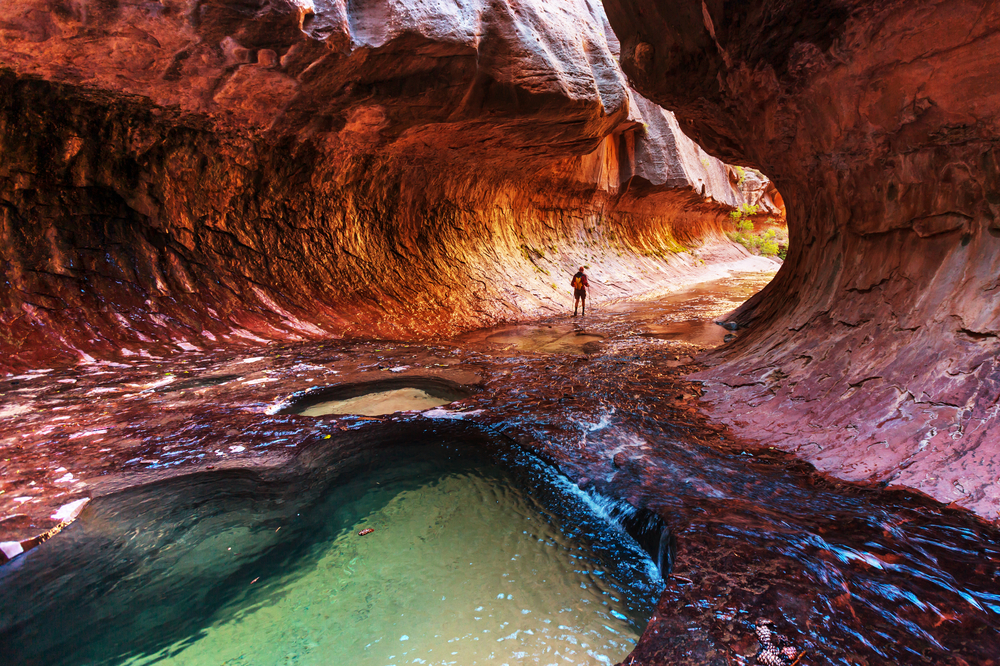 Head to Watchman Campgrounds to camp under one of the most iconic natural structures in the west. From here, you'll have a perfect base to explore the rest of the park's wilderness and beauty.
5. Yosemite, California
If you like the idea of combining camping with natural spa time, don't miss Wild Willy Hot Springs where you can soak with your friends and family while lapping up the rugged views of the Eastern Sierra.
6. White Mountain National Forest, New Hampshire
Experienced campers will love the rustic experience of the White Mountains. If you have the good fortune to visit in the fall, you'll be treated to a rainbow of colors as Mother Nature works her magic on the trees.
7. Badlands National Park, South Dakota
This national park features some of the most unique scenery in America. You'll crest large rock formations only to find valleys of flowers and grassland below. Archeologists have been enjoying these campgrounds for years in search of fossils, so you may even be able to find one of your own!
8. Haleakala National Park, Hawaii
This beautiful park is centered around a dormant volcano that offers amazing panoramic vistas of the breathtaking scenery and fabulous stargazing opportunities. You don't need to make reservations to camp out at Haleakala National Park. However, the campgrounds are only open select times throughout the year, so plan accordingly.
9. Sequoia and King's Canyon National Parks, California
Camping next to giant trees will make you feel small in the best of ways. You'll want to spend at least a few days exploring all of the majestic spots between Sequoia and King's Canyon parks. Sequoia National Park is also home to what is believed to be the largest tree in the world, General Sherman, pictured above.
10. Grand Teton National Park, Wyoming
Located not far from Jackson Hole, Grand Teton park is home to abundant wildlife, beautiful Rocky mountain peaks, and gorgeous lakes.
11. Arches National Park, Utah
The Devil's Garden is the only approved campground at this national park, but don't let the name scare you away or you'll miss out on the hundreds of natural red-rock arches that dot this spectacular landscape.
12. Crater Lake, Oregon
Camping between the dormant volcano and one of the deepest, cleanest, clearest lake in America may convince you that Crater Lake is the place to be. You can also spot all kinds of wildlife here, from mountain lions to spotted owls.